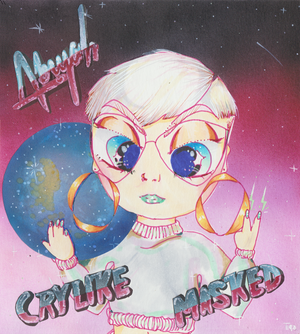 On the heels of last year's 'Boom' cassingle release with collaborator Evolve comes 'Crylilke/Masked', my new doubleA-side single. TWO songs. ONE single. BOTH bangers. Electro-dancehall punk with a tinge of new wave!
Armed with a rich punk ethos and an intimate knowledge of dancehall, avant-hip hop and alternative rock, this release spotlights Abiyah's journeys even further into uncharted territory. If you had to characterize this, electronic dancehall punk fits the bill and the songs find her in league with Santigold, MIA, Rituals of Mine and Grimes.
The songs on the single were produced by Dave Rohs, formerly of Cincinnati electro-synth rock group Chalk, and backing vocals were provided by Dana Hamblen of Darlene, Fairmount Girls and Culture Queer. The cover art for the single came as a result of a chance meeting and growing friendship between artist Tiffani Gomez (tiffanigomez.tumblr.com) and Abiyah at the Afropunk Festival a few years back. Recorded and mixed by Jeremy Lesniak, and mastered by MJC at FilthyBroke Recordings.
Click HERE to go to Bandcamp and stream/download (for FREE (enter $0.00) or pay-what-you-want)!