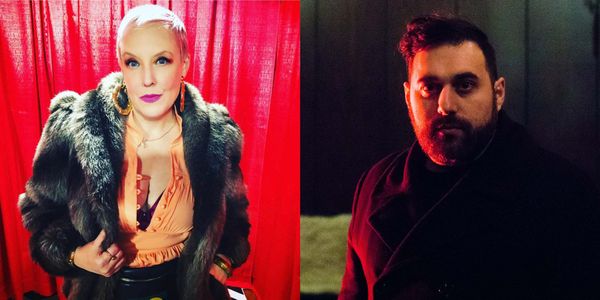 On the heels of her resurgent September 2018 release, the 'Crylike/Masked' electro dancehall punk double A-side single, Cincinnati-based songwriter and vocalist Abiyah puts forth a collaborative single with fellow like-minded genre-blender rapper/singer/guitarist Ceschi Ramos (based in New Haven, CT). 'Champion Plaque', will hit Bandcamp (free download and/or pay-what-you-want), as well as digital streaming providers, on February 19. Click HERE to stream/download on Bandcamp. In accordance with both Abiyah's and Ceschi's inherent penchants for genre-blending and blurring, and backgrounds in alternative hip hop, 'Champion Plaque' can best be termed a psych, post-punk and reggae-influenced left-field battle rap with melodic undertones.
'Champion Plaque' seeks to call attention to inauthentic people and situations with them in which we may sometimes find ourselves. Inauthenticity can manifest in a variety of forms: purposeful ethical lapses, dishonesty with ourselves and others, privilege, and shady music dealings, among others. 'Champion', in this context, does not relate to ego or self-righteousness; rather, it is an exhortation for all of us to be 'winners' by being our most genuine, honest, and ethical selves. The cover art, by Cincinnati-based illustrator/painter/muralist Derek Toebbe offers a strong visual representation of this theme. In it, he flips the idea of a wolf in sheep's clothing by presenting a sheep in wolf's clothing, as if to say that the world is pretty harsh, and people are pretty harsh, and sometimes we have to put up a hard exterior so we are not taken advantage of by the aforementioned inauthentic people; in reality, we can be peaceful and friendly, like a lamb. The laurel wreath, consisting of an olive branch and an oak branch, plays on the 'champion' connotation while, as the sheep's folded arms indicate, suggesting that authenticity requires that we not rest on our laurels. The olive and oak branches represent peace and strength, respectively, just like the lamb and the wolf. 
The original version of 'Champion Plaque' was produced by St. Petersburg, Russia-based producer Possible Address, the third song of Abiyah's for which he has done so in recent years. Because music unites when leaders divide. Bay Area-based MC/producer OneWerd handled the remix duties, presenting a stark contrast to the original's slow-ride psych-tinged elements with an EDM club banger.